Posted on 02. Apr, 2010 by admin in Internet Marketing Tools
If you have a lot of online form to fill and accounts to sign in every day, and you hate it! You can change your situation by getting a Form Filling Software – RoboForm, Let RoboForm fill the forms and manage your passwords with one click!
No more incidents of forgetting your username and password of your emails, social media sites, member sites, forums and any other accounts. Internet marketing life is much more easier now with RoboForm!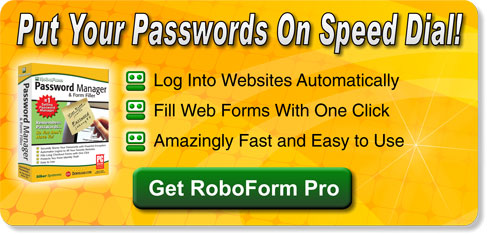 You might wondering what is RoboForm?
RoboForm was named PC Magazine Editor's Choice, and CNET Download.com's Software of the Year. It allows you to:
. Manage your passwords and Log In automatically.
. Fill long registration and checkout forms with one click.
. Encrypt your passwords to achieve complete security.
. Generate random passwords to maximize password strength.
. Back up and Synchronize Passwords between computers.
. Fight Phishing and Defeat Keyloggers.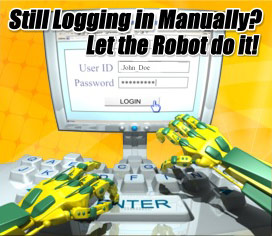 There are also no issue of platform problem because RoboForm Password Manager works with:
IE 6, 7, 8 , Chrome/Chromium

Firefox 2, 3, 3.5, 3.6

XP, Server, Vista, Windows 7 , Mac, Opera, Linux

USB Devices

iPhone, BlackBerry, Android, WinMobile, Palm, Symbian
View the "RoboForm Quick Start Video Guides" to get to know how to use RoboForm, the process of learn is fast and furious!
Review of RoboForm Main Features
Many may wonder if RoboForm is safe for their important login details, RoboForm comes with the 'Passcard', 'Identities' and top most important 'Security' functions.
The Passcard is the fundamental function of RoboForm. It allows user to save login information of any website require to uername and password log in. You only need to hit the 'Submit' or 'Login' button on any website whenever you want to go into the website.
By saving your login details into a passcard, you make logging into the website with 1 click the next time you visit the same site. Imagine the time you save everyday for login to a site, that might be 15 days a year.
You can also edit your passcards and add remarks on each password to illustrate what you have saved on the passcard anytime you want.
Identities – You can also create identities in RoboForm. By creating identities, you save information about yourself, including addresses, contact numbers, emails, website, company, preferred login details and even credit card numbers. The information is later on used by this application to fill up any forms for you automatically. You can also create multiple identities for yourself.
Security – Password security is the hallmark of RoboForm. It utilizes many methods of encryption to keep your passwords safe from prying, especially from keyloggers. For added security, you can generate passwords as long as 512 characters, and you can command RoboForm to purge your cache every time you logoff.
If you want physical security, it is possible for you to store RoboForm and your data to a USB key. The portable form of the software is called RoboForm2Go, and it allows you to keep your passcards, your identities and other sensitive data in a separate USB disk. The data and the software itself are never kept in the computer.
If you still cannot trust to save your identities and passcards at a pc or laptop, you can also purchase the portable RoboForm which is called RoboForm2Go, and it allows you to keep all your sensitive data in a separate USB disk. The data and the software itself are never kept in the computer. You can use the data at any computers.
TRY IT NOW, IT IS FREE!
As a summary, this is a great internet marketing tools for you to expand your internet marketing business. The beauty of the software is, there is always a Free Version of RoboForm for your try it out. The only limitation of the free version is that, you can only save up to 30 passcards and 3 identities only.
After the trial period is over, the form filling function does not work anymore, but you still can view, edit and delete all the passcards and identities. If you think the RoboForm save your life, you may consider purchasing a RoboForm Pro with unlimited passcard or identities and it is a great internet marketing tool that able to ease your registration task.